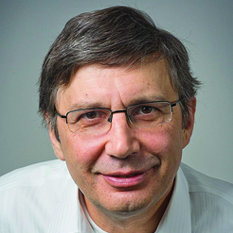 Dr. Andre Konstantin Geim
Professor, University of Manchester, UK, Nobel Prize winner (2010)
Dr. Andre Geim, in full Sir Andre Konstantin Geim, is a Russian physicist who was awarded the 2010 Nobel Prize for Physics for his experiments with graphene. He shared the prize with his colleague and former student Konstantin Novoselov. Geim held dual citizenship in the Netherlands and Great Britain.
Geim received a master's degree from the Moscow Physical-Technical Institute (now the Moscow Institute of Physics and Technology) in 1982 and a doctoral degree from the Institute of Solid State Physics at Chernogolovka, near Moscow, in 1987. He was a research scientist at the Institute for Microelectronics Technology and High Purity Materials at Chernogolovka from 1987 to 1990, and between 1990 and 1994 he held postdoctoral positions at the University of Bath, the University of Nottingham, and the University of Copenhagen. He was an associate professor of physics at Radboud University Nijmegen in the Netherlands from 1994 to 2000. In 2001 he became a professor of physics at the University of Manchester.
In 2004 Geim, Novoselov, and colleagues succeeded in isolating graphene, a one-atom-thick sheet of carbon found in a hexagonal lattice. Graphene is an extremely good conductor of electricity and may surpass silicon to form the next generation of computer chips. Graphene is also almost totally transparent, so it could be an ideal material for touch screens and solar cells.
During his career, Andre Geim has published many research papers, of which more than 20 are cited over 1,000 times and 4 are cited over 10,000 times. Two of the latter are now on the list of the 100 most cited research papers in human history. Thomson-Reuters has repeatedly named him among the world's most active scientists and attributes to him the initiation of three new research fronts – diamagnetic levitation, gecko tape and graphene.
Andre was also awarded the IgNobel prize in 2000 for his work on levitating frogs, becoming the only recipient of both Nobel and IgNobel Prizes. He has received both Dutch and British knighthoods.
Title: 2D Empty Space and its Unusual Properties